Un petit rappel, en anglais, de pleins de choses déjà vues, ou en cours, pour le projet Clipperton.
À lire aussi ICI.
On the first page of « Islands, still boats », his introduction to the « Atlas of Remote Islands« , Olivier de Kersauson reminds that heaven and hell are often close on faraway islands, but that islands are hardly innocent in the matter.
As for examples, he quotes 2 islands: Pitcairn, and Clipperton.
That was my first acquaintance to Clipperton, in French called « île de la Passion », an island that strangely looks like a ring. Yes, maybe islands are not innocent.
Reading more on the matter of remote islands, I was not surprise to see that one island could have many names (depending on the nation discovering or claiming it), and that once again, naming something gives it an existence, a history, a context, and indexes it, immediately.
Yes words have that power, weather it is territory in the middle of the sea, or a territory of research. Art words. Science words. That is my project on Clipperton: observing similarities and differences between the terms, language used in art and science. Defining a corpus of vocabulary from both of these fields, examining the gaps and common ideas they share to produce a visual work out of it.
So as a start, it is fair to look at a few words (sometimes pictures) that came to my attention this last 2 months – subjectively or by searching the internet or libraries. Some are self explanatory, some have comments. But I  think are all related to the temporality of the Clipperton project and classified as such:
– The journey / waves / being at sea. Anticipation & projection
– The stay / being there working
– Being back / Undulations / The output of the project.
-The journey / waves / Being at sea.
Vagues scélérates (Rogue waves)
« Les vagues scélérates » are large and spontaneous ocean surface waves that occur far out in sea, they seem not to have a single distinct cause and for the longest time where a myth. The French "scélérate" means "perfidious", which I quite like because it defines the phenomenon in relation to others (here sailors), not just its quality.
Vija Celmins
A few years back, at the Pompidou Centre, I saw Vija Celmins' desolated drawings of sea, sky and desert.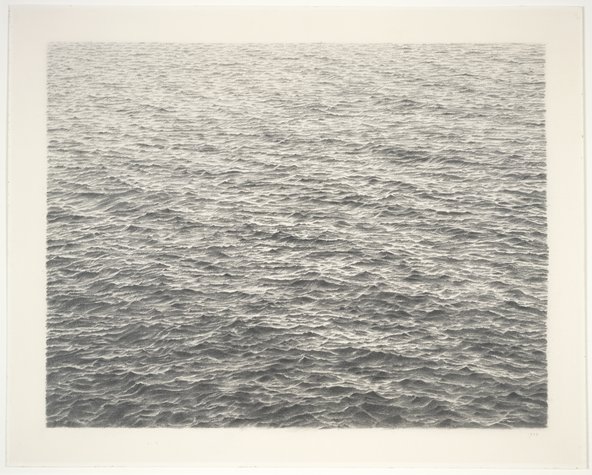 Clipperton as a boat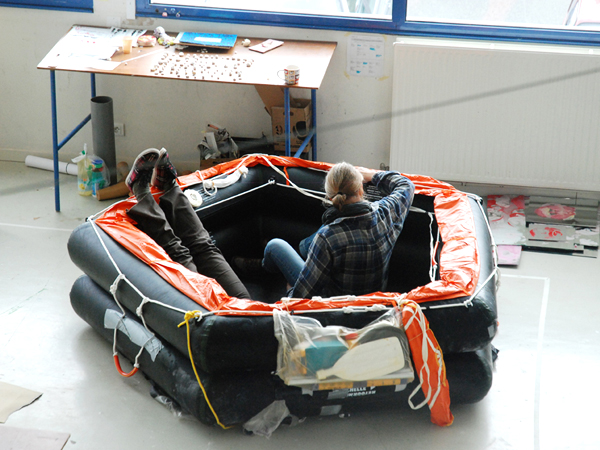 This picture was taken during a weeklong workshop at the Brittany School of Art (Lorient), where I teach. The workshop, with artist Laurent Tixador (who is actually on his journey to the Kerguelen islands), was a bivouac and occupation of the school. Coming across it recently, I realise how Clippertonian this exepriment was and how Clippertonian the boat I slept on was..
In the beginning of my participating of the project, I went on GoogleEarth to see what Clipperton Island « really » looks like. What I found was more the visualisation of a still floating vessel (or a little like a cloud) than an island as such.
This floating vessel sent me back to Olivier de Kersauson's introduction, but also, and more importantly to Michel Foucault best example of heterotopias.
Heterotopia, from a boat to heterotopia.
Being on Clipperton is also the occasion to look at this expedition as an exploration of a sorts of heterotopias. An heterotopias is a concept in human geography: a concrete space that holds imagination, reality and fantasy at the same time.
They are spaces of otherness, which are neither here nor there, that are simultaneously physical and mental. (ex: space of a phone call or the moment when you see yourself in the mirror).
Contrary to utopia which is an idea or an image representing a perfected version of society, Foucault uses the term heterotopias to describe a physical representation or approximation of an utopia, or a parallel space that contains undesirable bodies to make a real utopian space possible.
« First there are the utopias. Utopias are sites with no real place. They are sites that have a general relation of direct or inverted analogy with the real space of Society. They present society itself in a perfected form, or else society turned upside down, but in any case these utopias are fundamentally unreal spaces.
There are also, probably in every culture, in every civilization, real places – places that do exist and that are formed in the very founding of society – which are something like counter-sites, a kind of effectively enacted utopia in which the real sites, all the other real sites that can be found within the culture, are simultaneously represented, contested, and inverted. Places of this kind are outside of all places, even though it may be possible to indicate their location in reality. Because these places are absolutely different from all the sites that they reflect and speak about, I shall call them, by way of contrast to utopias, heterotopias ».
(For whole text and various category/principle descriptions of heterotopias: foucault.info).

Collect & navigation
These 2 words could summarise both my usual computer-based practice as an artist, the general objectif on this expedition to Clipperton, and the method of my enquieries.
Coral Reef
A lot of the talk around the Clipperton project is about coral reef life. This could be one good case of study on how artists and scientists projects their works. Data and representation are probably two sides of the same coin. Where could they meet?
The Institute for Figuring offered an incredible answer a few years back, with their project "Crochet reef. » The inspiration for making crochet reef forms begins with the technique of « hyperbolic crochet » discovered in 1997 by Cornell University mathematician Dr. Daina Taimina. The Wertheim sisters adopted Dr Taimina's techniques and elaborated upon them to develop a whole taxonomy of reef-life forms.

« Crochet Coral and Anemone Garden » with sea slug by Marianne Midelburg.
Photos © The IFF by Alyssa Gorelick.
Loopy « kelps », fringed « anemones », crenelated « sea slugs », and curlicued « corals » have all been modeled with these methods. The basic process for making these forms is a simple pattern or algorithm, which on its own produces a mathematically pure shape, but by varying or mutating this algorithm, endless variations and permutations of shape and form can be produced. The Crochet Reef project thus becomes an on-going evolutionary experiment in which the worldwide community of Reefers brings into being an ever-evolving crochet « tree of life. »
Coming back. The output of the project.
Graphical method
"La méthode graphique", developed by Etienne-Jules Marey consist in a mechanical transcription (on paper or on a sensitive surface) of pulsations, vibrations, undulations, quakes, and shivering produced by the movement of all living bodies or moving objects. The obtained graphic is the spatial memory, which enables us to see the variation of movement during a certain time. This information can either be continuous or non-continuous.
The graphical method made possible the knowledge of a number of phenomenon in medicine, physiology, natural sciences, and physics. These recording devices have for the first time in history, a graphical representation of movement or phenomenon invisible to the eye.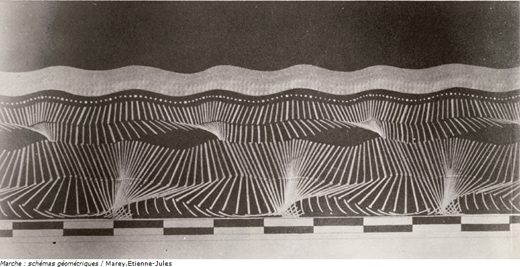 Etienne-Jules Marey, walking.
To end this post, I would like to quote Georges Didi-Huberman, who, speaking about the mareysienne curve sayd that it "transforms the idea of the phenomenon and its possibility of image" ( transforme à la fois l'idée du phénomène et celle de sa possibilité d'image).
If I had a definition for what is art (I have too many) it would be very close.
A vast program J