J'ai le plaisir de présenter mon dernier projet, « Clear, Deep, Dark », lors de mon exposition personnelle à la Hawn Gallery, Dallas, du 26 janvier au 11 mars 2018.
Vernissage le 26 janvier à partir de 17h.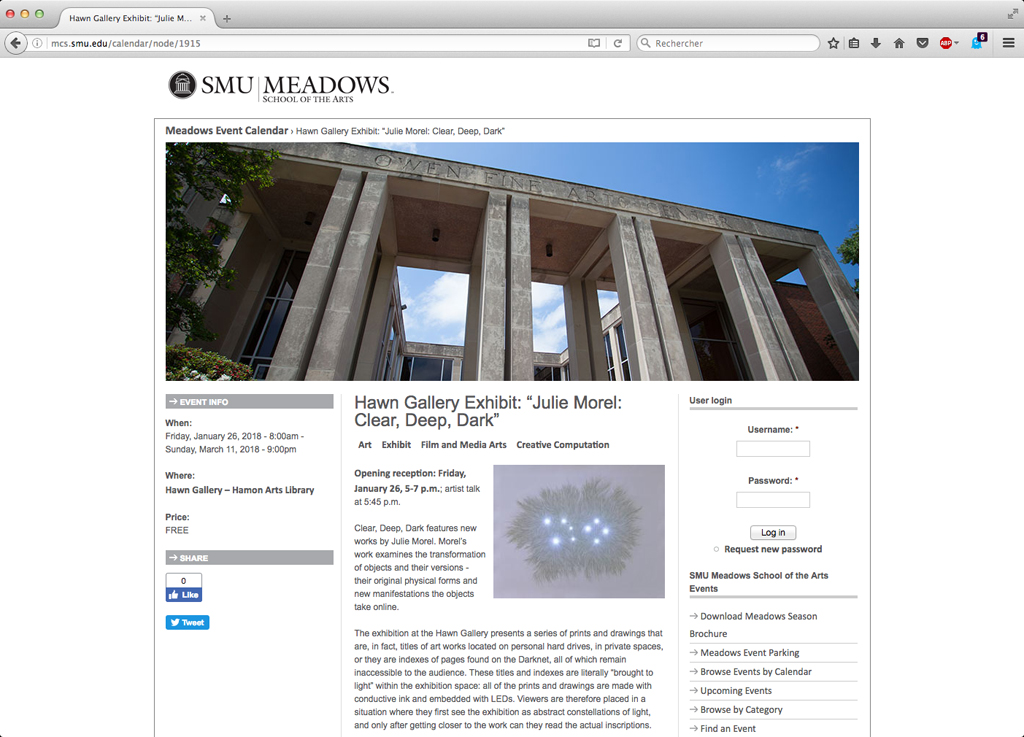 « Morel is a net artist, and as such, her works use the internet as a canvas and medium. In addition, she incorporates other media into her work, including technology, books, typography, and drawings to realize the relationships between text and image.
Morel's projects are never insular, as most of them involve collaborations with other artists, writers, and designers. One such project initiated by Morel is the AFK project (2014-2016); a series of exhibitions, online proposals, and plastic research. The first three of these exhibitions took place at the Galerie des Étables (Bordeaux) in 2014, followed by an online conversation with Karine Lebrun and exhibits at the Quartier Centre d'art, a project center.
The acronym AFK references "away from the keyboard," which lets people know that the user is away from the computer. This project examines objects created digitally and distributed via the internet. This transmission creates a continuous cycle whereby objects transform and shift long after their initial creation. On her website, Morel describes the purpose of this project, "The AFK project aims to explore these [digital and textual] relationships through long-term plastic research in the form of exhibitions, online proposals, conversations, and publications.
Clear, Deep, Dark features new works by Julie Morel. Morel's work examines the transformation of objects and their versions – their original physical forms and new manifestations the objects take online.
The exhibition at the Hawn Gallery presents a series of prints and drawings that are, in fact, titles of art works located on personal hard drives, in private spaces, or they are indexes of pages found on the Darknet, all of which remain inaccessible to the audience. These titles and indexes are literally "brought to light" within the exhibition space: all of the prints and drawings are made with conductive ink and embedded with LEDs. Viewers are therefore placed in a situation where they first see the exhibition as abstract constellations of light, and only after getting closer to the work can they read the actual inscriptions. »
Emily Rueggeberg, curator.